Are you showing your customers that you take their health and safety seriously?
New research shows 62% of consumers agree that hospitality hygiene standards have become MORE important to them since COVID-19. And 55% want to see hygiene measures evident and transparent. The study also revealed that consumers will be unwilling to give venues a second chance if there's a drop in hygiene standards. So, there is no room for error.
Customers expect exceptional standards and want visible evidence of these. Help your venue stand out from the crowd by communicating the key health and safety measures you've put in place. Besides, you've already done the hard work—this is the easy bit!
Download your editable Hygiene and Safety Checklist
Communicate Hygiene Measures
As a restaurant owner, you've had to make a lot of changes to the way you do things since the start of the pandemic. From implementing more rigorous cleaning regimes, and re-training your staff, to making customers feel safe and welcome (which is no mean feat in a mask and from a distance!).
You've no doubt completed endless health and safety checklists. But have you shared the results with your customers? Going forward we will have to learn to live with covid, so make sure you have adapted your marketing accordingly. Most importantly, tell your customers about all the safety measures (and products!) you've put in place.
A Health and Safety Checklist can help give customers the additional confidence they need to visit, relax, and enjoy their time in your venue.
A Health and Safety Checklist
So, what does a Hygiene and Safety Checklist look like?
It should contain information on the checks and processes you have put in place, such as risk assessments, cleaning procedures and any additional staff training or health checks you now have. It is also a good idea to highlight to your customers the hygiene and safety equipment that is present, especially any that may go unnoticed. Some Air Cleaning products, like HyGenikx, come with their own Customer Confidence Stickers, which you can also place around your venue.
Here's an example Hygiene and Safety Checklist you can adapt to demonstrate your high hygiene standards. Put this on your website and up as posters in your restaurant, to reassure your customers.
8 Steps to a Healthy Venue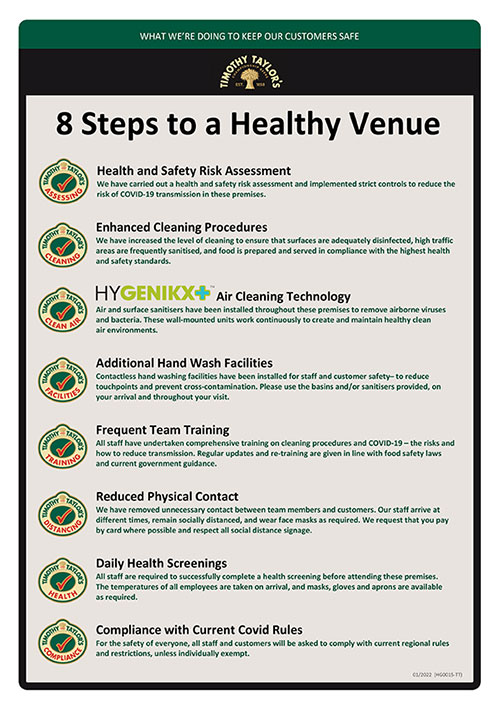 1. Health and Safety Risk Assessment
We have carried out a health and safety risk assessment and implemented strict controls to reduce the risk of COVID-19 transmission in these premises.
2. Enhanced Cleaning Procedures
We have increased the level of cleaning to ensure that surfaces are adequately disinfected, high traffic areas are frequently sanitised, and food is prepared and served in compliance with the highest health and safety standards.
3. HyGenikx+ Air Cleaning Technology
Air and surface sanitisers have been installed throughout these premises to remove airborne viruses and bacteria. These wall-mounted units work continuously to create and maintain healthy clean air environments.
4. Additional Hand Wash Facilities
Contactless hand washing facilities have been installed for staff and customer safety– to reduce touchpoints and prevent cross-contamination. Please use the basins and/or sanitisers provided, on your arrival and throughout your visit.
5. Frequent Team Training
All staff have undertaken comprehensive training on cleaning procedures and COVID-19 – the risks and how to reduce transmission. Regular updates and re-training are given in line with food safety laws and current government guidance.
6. Reduced Physical Contact
We have removed unnecessary contact between team members and customers. Our staff arrive at different times, remain socially distanced, and wear face masks as required. We request that you pay by card where possible and respect all social distance signage.
7. Daily Health Screenings
All staff are required to successfully complete a health screening before attending these premises. The temperatures of all employees are taken on arrival, and masks, gloves and aprons are available as required.
8. Compliance with Current Covid Rules
For the safety of everyone, all staff and customers will be asked to comply with current regional rules and restrictions, unless individually exempt.
Download your editable Hygiene and Safety Checklist
Air Quality and Safety
Air Quality is one of the most important factors when it comes to preventing virus transmission. But also, one of the hardest to demonstrate. Be sure to include any air cleaning technology high up on your checklist to show customers just how seriously you take their safety.
The HyGenikx range of air and surface sanitisation systems is one of the most rigorously tested and effective products on the market. Lab tested and proven to remove airborne coronaviruses. It uses a unique combination of ultraviolet UVC light and titanium coated plates to create germicidal irradiation, which destroys viruses on contact. It is compact, wall-mounted, quiet, and efficiently works 24/7 without the need for human intervention.  Learn more about the HyGenikx range.