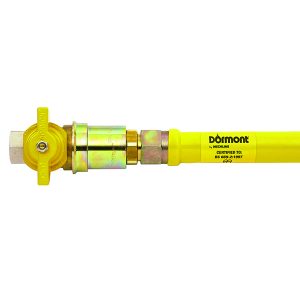 This year we have all heard of terrible gas related horror stories in kitchens. The potential dangers lurking behind appliances, out of sight, out of mind have an immeasurable impact. We must all do our best to make sure gas safety isn't forgotten about, even if the kitchen is checked by a safety engineer yearly as advised, we know a lot can happen in that time.
Putting safety at the top of the list before cost is the first step, make it as difficult as possible for installers, cleaners and kitchen staff to get it wrong. With Dormont's SafetyQuik the gas hose can be disconnected when the valve is turned to the OFF position. Gas flow is safely shut off with a simple, one-handed action.
Likewise the valve cannot be opened until the gas hose is correctly re-attached. The thermal shut off safety feature stops the flow of gas when internal temperature exceed 170°C (350F).
Find out more.