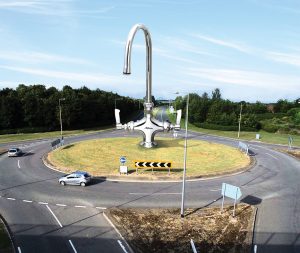 A sculpture of a giant AquaJet tap has been installed in Milton Keynes to celebrate British Manufacturing. The range of AquaJet taps, faucets and pre-rinse sprays used in commercial kitchens across the country are manufactured by local organisation Mechline Developments.
Since opening in 1984, Mechline has been designing and producing a range of hospitality and foodservice solutions for the kitchen from its premises in Kiln Farm.
The sculpture stands proud in the middle of one of the town's 124 roundabouts, something which Milton Keynes is very well known for.
Kristian Roberts, marketing manager; 'The sculpture is a fantastic addition to the town. Celebrating the success of British Manufacturing, it's certainly not something you see every day on a roundabout.'
Look out for the big tap on the Shenley Roundabout on the H6 Childs Way in MK.
#AprilFools