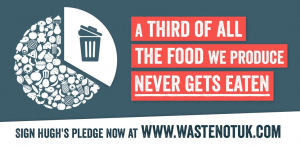 At Mechline we agree that wasting millions of tonnes of food a year is unacceptable and unnecessary.
We support the #wastenot War on Food Waste, calling for commercial organisations in the UK to focus on food waste reduction and management, taking responsibility for the waste that they cause in the supply chain from farm to fork.
The campaign encourages food suppliers to relax their cosmetic standards for produce, and to stop changing orders last minute. Asking them to stop pushing the waste problem onto the farmers supplying produce.
We agree that Britain's food industry should make strenuous and visible efforts to redistribute all their surplus good food to those who are in need, instead of sending it to anaerobic digestion.
The campaign is asking for double the amount of waste to be redistributed in the next year and for supermarkets to offer transparency in the way they deal with waste.
Find out more or pledge.