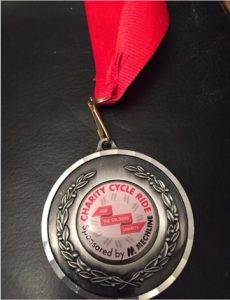 Mechline is proud to have supported the annual Soldiers' Charity bike ride once again this year. In its fourth year, the event saw 562 cyclists take part in the ride across the Beds, Bucks and Herts countryside on Sunday 4th September 2016.
Showing our support for ABF The Soldiers' Charity who take care of soldiers, former soldiers and their families from the British Army, Mechline staff assumed the roles of stewards, photographer, food stop assistants, admin support and awarding those completing the rides with medals.
Peter Sage-Passant, Chairman at Mechline and Routemaster of the ride; "We are really pleased to have supported the Sportive again this year and the feedback from the riders has been fantastic, which makes it even more worthwhile."
The event has so far raised over £12,000, you can still pledge your support, visit the ABF website to make a donation or find out more about the charity and its event.