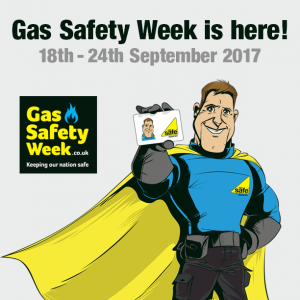 Gas Safety Week returns this week (18-24th September 2017) and Mechline Developments has again pledged its support, in order to raise awareness of gas safety and remind the foodservice and hospitality industry of their responsibility to keep staff and customers safe from the dangers posed by gas appliances.
Gas Safety week provides a platform for multiple organisations across the UK to work together to raise awareness of the dangers of poorly maintained gas appliances, which can cause gas leaks, fires, explosions and carbon monoxide (CO) poisoning.
Foodservice operators have a duty to make sure that their gas appliances are safety checked every year and serviced regularly. Also, that the person employed to do the work is Gas Safe Registered and therefore not working illegally.
The commercial kitchen environment can be rife with hazards, ranging from sharp knives to high heat, but the most hazardous of them all lurks silently. Badly fitted gas hoses can have deadly consequences. This is why Mechline recommend Dormont gas hoses – the only kite marked hoses in the UK! Of the highest quality and reliability with safety features built-in and BS669 Part 2 compliant with worldwide accreditation, they have a proven reputation for ultimate safety and reliability.
Kristian Roberts, Marketing Manager at Mechline, comments that: "Dormont are widely regarded as the safest, strongest and most trusted gas hoses in the world. The fittings are better machined to ensure smoother operation and ease of use, plus far greater durability, reliability and safety: facts that are backed up by the evidence of the safe installation of more than 115m Dormont gas connectors over 50 years."
Jonathan Mottram, Engineer at Signature Gas Services, adds: "we specify Dormont hoses into most sites as a preventative measure, as they are in a league of their own quality wise. Different hoses we have used in the past they have not withstood the movement of kitchen equipment and have ended up faulty and no-good. With Dormont we particularly use SwivelMAX as their rotational movement decreases stress on the hose and enhances longevity. They are very resistant."
When it comes to gas safety, quality should never be compromised for the sake of cutting costs. Not when your reputation and, more importantly, people's lives are at risk.
To remain gas safe, follow this advice:
Check gas appliances every year. Gas appliances should be safety checked once a year and serviced regularly by a Gas Safe registered engineer. Tenants – make sure the landlord arranges this. Encourage your customers to set a reminder so they don't forget at staygassafe.co.uk.
Check that an engineer is Gas Safe registered. You can find this information at GasSafeRegister.co.uk or call 0800 408 5500.
Check an engineer's Gas Safe Register ID card. Make sure they are qualified for the work they need doing. You can find this information on the back of the card.
Check for warning signs that appliances aren't working correctly e.g. lazy yellow or orange flames instead of crisp blue ones, black marks on or around the appliance and too much condensation in the room.
Check you know the six signs of carbon monoxide poisoning – headaches, dizziness, breathlessness, nausea, collapse and loss of consciousness.
Check you have an audible carbon monoxide alarm.