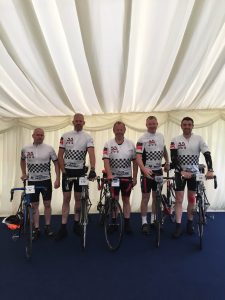 Team Mechline, otherwise known as the Hairy Test Cycles, comprising of Peter Galliford, Andy Coulthard, Nick Howe of Court Catering, Will Pitt of Stainless Supplies and Karl Stuckey of Nature First, completed the Hospitality Action Sportive 102 Mile Charity bike ride on Monday 5th June, raising very valued funds for the industry charity.
What was supposed to be a beautiful barmy summer's day saunter in the Cotswolds, turned into an apocalyptic weather nightmare and fast became a Tour de Force.
Torrential rain (and we do mean 'torrential' tropical like) and battering winds accompanied the mad lads, and the other 200+ riders, throughout the undulating Cotswold terrain for the duration – and despite the punctures, the mud, rain, tears, the cold, shear dogged endeavour and determination got the fellas over the finishing line, just before the Tents were blown off the lawns at the events HQ at Beaufort Polo Club.
Peter said – "I don't quite remember this description of the event on the invitation! Well done to the team and all those who foolishly braved it for finishing. Great effort, for a very worthwhile charity. And, very well done to Hospitality Action, to Penny and all those involved in the event – really well organised and managed, in very trying conditions."
Nick Howe, veteran Olympic Rower and no stranger to being 'wet', stood in his sodden dripping lycra in a pool of Cotswold mud and rain at the end, with a solitary wet wipe to clean and dry himself down, and said, ……. "If Peter Galliford or Andy Coulthard ever invite you to join them on a so called 'sun kissed' charity jaunt, to enjoy stunning views, countryside, locations and idyllic scenery, champagne receptions and fabulous food, comradery and bonhomie, tell them to ………. persistent rain off" !
If anyone wishes to make a donation, please do so Hospitality Action direct – www.hospitalityaction.org.uk/get-involved/take-action/donate/