Last week Mechline Developments worked against the clock to turnaround 60 AquaJet pre-rinses for shipment to the new Nightingale Hospital at Cardiff's Principality Stadium, now known as the Dragon's Heart Hospital – or Ysbyty Calon Y Ddraig.
The iconic sports and events venue, better known as the Millennium Stadium, was transformed into a field hospital in just two weeks to become the largest hospital in Wales. Officially opened yesterday by Prince Charles, the Dragon's Heart Hospital will help to ease pressures on the NHS by caring for patients with coronavirus.
Initially open to 300 patients, work is set to continue over the next few weeks until the hospital is fully functional with a 2,000-bed capacity. Mechline's AquaJet pre-rinses are already at the site helping to maintain hygiene levels – diversifying their use away from foodservice in these unprecedented times.
Last week, Mechline received the urgent call for 60 AquaJet 50 pre-rinse sprays. The team worked against the clock to ensure these were delivered to the Dragon's Heart Hospital within 24 hours of the order being placed.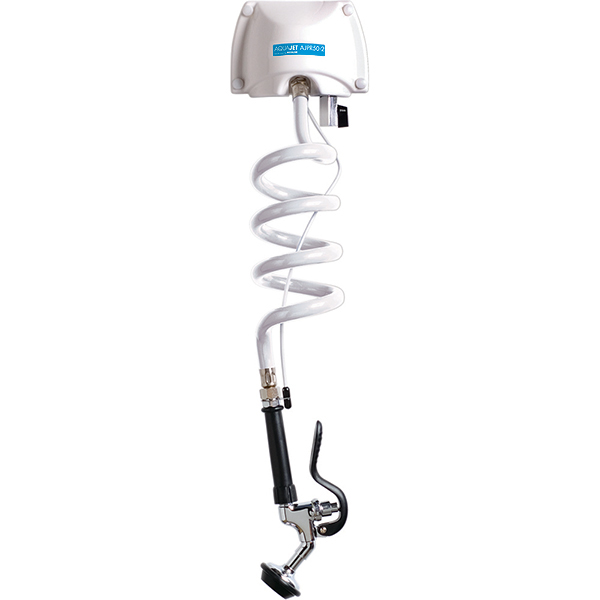 The AquaJet 50 is a robust model designed to handle the most demanding environments, with a coiled hose and built in restraining device to absorb wear and tear and prevent the overextension of the hose. Crucially, the model is a very hygienic solution, with easy to clean, wipe-down surfaces, which help staff to easily engage in good hygiene practice.
Andy Coulthard, Sales Manager at Mechline comments:
 "At the moment, with these Nightingale projects pushing ahead very rapidly, every aspect is time critical – and stock needs to be readily available. At Mechline we are keeping a good supply of product built and ready to go, and our Mechline team – and wider supply chain – are working very hard to react quickly to fulfil such urgent orders."
 Mechline Developments remain operational during the current lockdown to ensure that companies who need products or support in these challenging times can be serviced. If you require any assistance, please phone 01908 261511 or email info@mechline.com