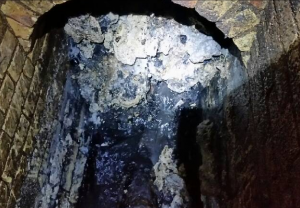 'MONSTER FATBERG' is the latest in a plethora of fatberg related news to hit the headlines after last week's discovery of a 250-metre, 130 tonne fatberg blocking a sewer in Whitechapel! Weighing in at the same as 11 double-decker buses and measuring longer than Tower Bridge – it really is a monstrous case. Despite calls to 'Bin it – Don't block it' (Thames Water) and 'Keep it Clear' (Southern Water) fats, oil & grease (FOG) are still ending up in drains. The issue is the emphasis of blame on the foodservice industry for such cases. Matt Rimmer, head of waste networks at Thames Water said that "a lot of fat comes from food outlets" and are caused by "fat, oil and grease being washed down sinks…" However many food service outlets do have suitable FOG management systems in place and there are many other major contributors to these cases, such as poor sewage maintenance and domestic items that are flushed down toilets like wet wipes, nappies and condoms which congeal with FOG and make a bigger problem.
UK Building Regulations specify that drainage serving kitchens in commercial hot food premises should be fitted with a grease separator or other effective means of grease removal — and many establishments do adhere to this! Even in cases where food establishments systems may be proving ineffective, it is often not for want of trying.
Commercial kitchen equipment manufacturer, Mechline Developments, recently collaborated with Southern Water to solve a pubs longstanding issue with FOG blockages. The pub had a history of blockages caused by FOG and resulting floods, both of which occurred even after efforts had been made with the installation of a greasetrap. Only after a site evaluation and a yearlong trial with appropriately placed GreasePaks, the most powerful and only BBA (British Board of Agrément) approved bioremediation dosing system on the market, did their longstanding issue with FOG subside. Andrew Mellor, Landlord of The Pelham Arms commented: "over the last year we have not had any blockages, the water company are happy with the results and the kitchen team are happy too, which means as a business owner…I am very happy." The key to success in this case was of course a highly effective product, but also collaboration and guidance. Only with the combined forces of water company, business owner and equipment manufacturer were vital changes made to prevent FOG reaching drains.
GreasePak in particular works by employing a powerful bio-enzymatic fluid that breaks down FOG into irreversible simpler compounds, and complies with UK legislation as an 'effective means of grease removal' as specified in the UK Building Regulations 2000. GreasePak works so well in isolation as it incorporates the most powerful Multi-Strain Grease Degrader fluid on the market, consisting of naturally occurring, non-pathogenic bacteria, containing in excess of 500 million 'bugs' per gram. The unique formula permanently breaks down FOG and starches in the drain, resulting in these being able to pass through drainage and, most importantly, not being able reform down the line.
Foodservice outlets need to not only implement grease management systems, but also make informed decisions on the most appropriate solution for their site; not always a simple task. With the support of water companies, minus accusation, the correct FOG management technology is more likely to be deployed. Mechline calls for water companies to stop unduly blaming food service outlets for FOG issues, as there are other major contributors. In many cases business owners are in fact following the preventative measures suggested to them — and if these are proving ineffective, are they solely to blame?