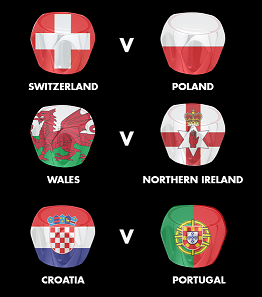 It's time for the Super Sixteen!
England, Wales, and Northern Ireland have all made it to the knockout stage. Have any of them got what it takes to go all the way?! The competition is hotting up!
This week we'd like you to predict the match results for Saturday's games. We know who our favourites are but can you name the winners?
Switzerland play Poland
Croatia take on Portugal
Wales are up against Northern Ireland
It'll be a weekend to remember for the home teams.
Make sure you get your entries in by 5:30pm on Friday!
Good luck with your predictions, and good luck to our teams on the pitch!