Mechline's Dormont gas connectors are in many cases the preferred choice for operators, installers and engineers. They are loved by many, and, loved by Mechline. We consider the time and dedication in the manufacturing and testing process simply too important and we want to protect it. In Maintaining the BSI Kitemark for 20 years, Mechline have cared for every single one of its Dormont gas connectors placing great importance on the superior quality design, materials, and construction with many safety features built-in as standard.
To reflect on this outstanding achievement and recognition, this year Mechline will be donating 10p for every gas hose sold to The British Heart Foundation, in order to celebrate 20 years of safeguarding the BSI Kitemark. That's a lot of love!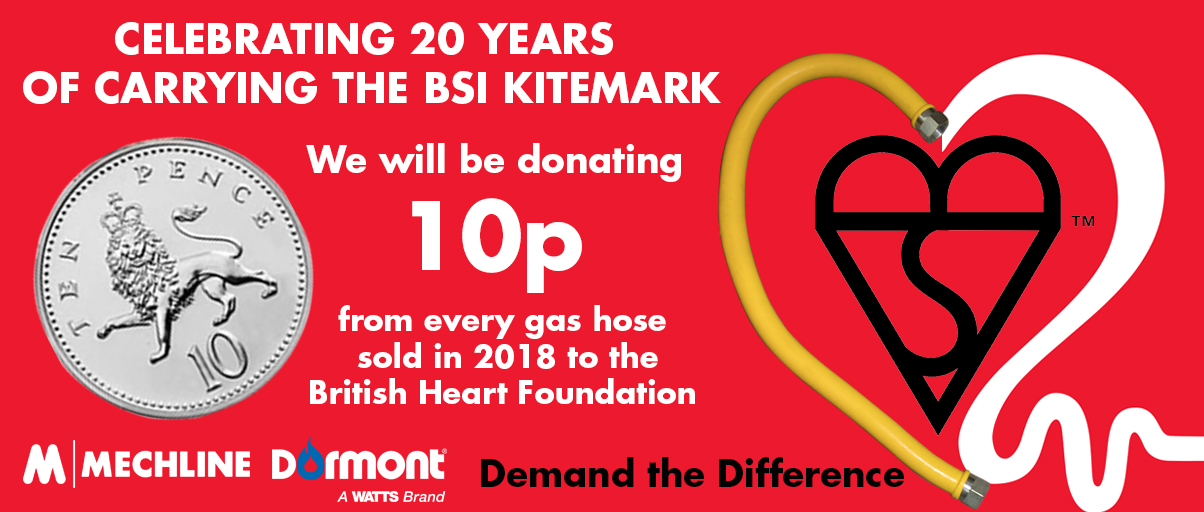 Dormont developed the very first commercial catering gas hose and, just as they did then, remain to steadfastly maintain the highest design, quality, materials to create reliable, long lasting and safe products. Still true today, they are undoubtedly the world's most trusted name in gas connectors being the most accredited gas hoses in the world, with over 150 million gas connectors installed.
What is somewhat unknown, is the combination of Dormont and Mechline to create the gas connectors to suit the UK's own specific market and technical requirements. Mechline carry out all assembly and testing of finished products in Milton Keynes. Through comprehensive manufacturing, build, testing and packing process Mechline's Dormont hoses are cared for with more love and attention than any other gas hose. This is reflected in the fact that they are the only commercial gas hose to carry the BSI Kitemark, the most recognised symbols of continuous quality and safety.
Invaluable, the BSI Kitemark certification signifies the presence of ongoing quality testing, rather than just one sample complying on one original test date. Mechline maintains a rigorous audit testing process at their factory in Milton Keynes in order to uphold the BSI Kitemark, meaning that every hose and quick disconnect is tested to the high specification set out by BSI [other gas hoses in the marketplace only comply with BS669 Part 2:1997, which indicates compliance of one sample on one test date, but is not monitored, has no on-going QA control and is not a sufficient enough test to qualify for BSI Kitemark registration].
Many facility and engineering bodies, institutions, operational groups and specifiers will not actually accept gas safety products that do not carry the Kitemark symbol.
Even down to the final touches, every step in Mechline's manufacturing process is subjected to considerable care and attention, followed by 100% controlled audited inspection. Mechline is proud to outsource the labelling, cleaning and packaging of its gas hoses to a local charity, MK Snap, whose fully trained operators and clients [fully supervised] thrive on emulating Mechline's approach and perfecting established routines. MK Snap's mission is to deliver a leading programme of education, life skills, work preparation and opportunities to adults with learning difficulties, providing them with the skills they need to be the best they can be.
Caroline French, Head of Learner Services at MK Snap, comments, "Our learners provide a quality cleaning and packaging service for Mechline, delivered with great pride and care. Through this work our learners have gained invaluable skills and a real sense of achievement and purpose. We are delighted that Mechline outsource this work to us, it's great for development and our adults really enjoy the work involved."
Mechline find the added expense and commercial time taken to outsource this work an investment to be very proud of. It's a wonderful relationship.
 It is true that every gas hose that leaves Mechline's factory is cared for with a great deal of care and love. Mechline will delve deeper into just how loved Mechline's Dormont gas hoses really are throughout the whole of 2018.
Not every gas connector is the same!
Superior quality design and construction together with proven recognised safety are our Norm. Demand the Mechline Dormont difference… with love!
Your reputation is our business.