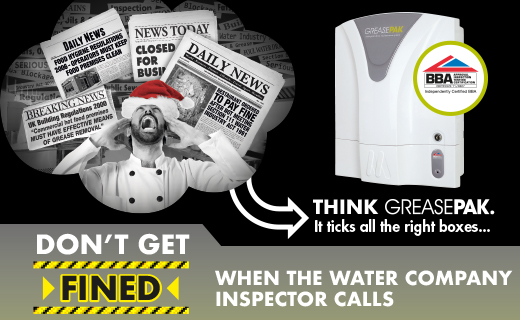 Turkey, duck, sausages, ham, bacon… just a few signs that Christmas is well and truly on its way (4 weeks!). Blocked drains, blocked pipes, flooding, inspectors and fines… a few signs that the Fats, Oil and Grease (FOG) from these aren't being disposed of correctly – and that's even before December! The headlines have been rife with fatberg news, from London Whitechapel's 140 tonne 'monster fatberg' to Baltimore's (USA) smaller equivalent causing 1.2 million gallons of sewage to overflow into a stream. Unless both households and businesses tackle this issue at its source it is only going to get worse, which means increased utility costs for all – bah humbug!
Despite the plethora of headlines, water companies ramping up their fatberg fighting campaigns, including door drops and business visits, and even a live radio broadcast from the London fatberg, the act of incorrect FOG control seems to be a habit hard to break. But why? Is it the inconvenience? A memory lapse? Diffused responsibility (i.e. "someone else will deal with it")? With research showing that hospitality workers only manage to sleep for an average of 5-6 hours a night over the Christmas period, working an average of 28 hours overtime (OOH, November 2017), it could well be all of the above. However this won't cut it in the eyes of the inspectors.
Operators need reminding that they have a responsibility to ensure that their waste does not interfere with the free flow of the sewage network, as required by law under section 111 of the Water Industry Act 1991. With GreasePak, Mechline has tried to make it as easy as possible for operators to engage in effective grease management – no dirty cleaning jobs, no hazardous waste collections, and no excuses!
GreasePak is the most powerful and only BBA (British Board of Agrément) approved bioremediation dosing system on the market. It prevents the build-up of FOG in drainage systems, which can otherwise result in serious blockages. Where other grease management systems may trap FOG and create an unpleasant haven for infestation and noxious odours, GreasePak is environmentally friendly, trouble-free, easy to clean and prevents drains from smelling.
GreasePak works by dispensing a pre-set amount of Multi Strain Grease Degrader (MSGD) fluid into waste drainage pipes, at a predetermined time when the kitchen is not in use. The unique formula permanently breaks down FOG and starches in the drain, resulting in these being able to pass through drainage and, most importantly, not being able to reform down the line. The fluid refills are easy to store and change and the unit itself has few working parts, making GreasePak very easy to install and operate. A built-in alarm system also reminds operators when they need to change the bio-fluid, prompting timely and efficient maintenance.
Staff have very little to do or worry about when GreasePak is in place, meaning time can be dedicated to the large numbers of Christmas covers. However, like all grease management solutions, operators must engage in kitchen best practise – 'Stop and think, not down the sink!' – in order to successfully reduce the amount of FOG entering the kitchen drainage system. With engagement and a suitable grease management system in place, food service establishments can look forward to a FOG trouble-free New Year!