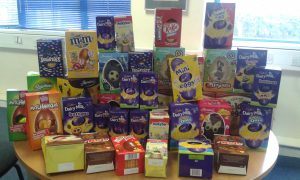 Mechline staff collected and donated a lovely lot of chocolate Easter Eggs for families supported by our local Food Bank.
Some wards of Milton Keynes are within 10% of the most deprived areas in England. In one ward, the number of people relying on means tested benefits is 50% higher than the England average.
Kristian Roberts, Marketing Manager; 'Our staff were keen to get together to help families using foodbanks to celebrate Easter. We regularly hear in the media about the increased use of foodbanks, hopefully we will help to put a few chocolatey smiles on some little faces this Easter.'
Find out how you can support the Food Bank here.