This October Mechline launch its new revolutionary air and surface hygiene amplification system, HyGenikx. The advanced and compact, wall-mounted system is proven to eradicate bacteria and viruses throughout the food service & hospitality environment, as well as significantly prolong the life of fresh perishable food.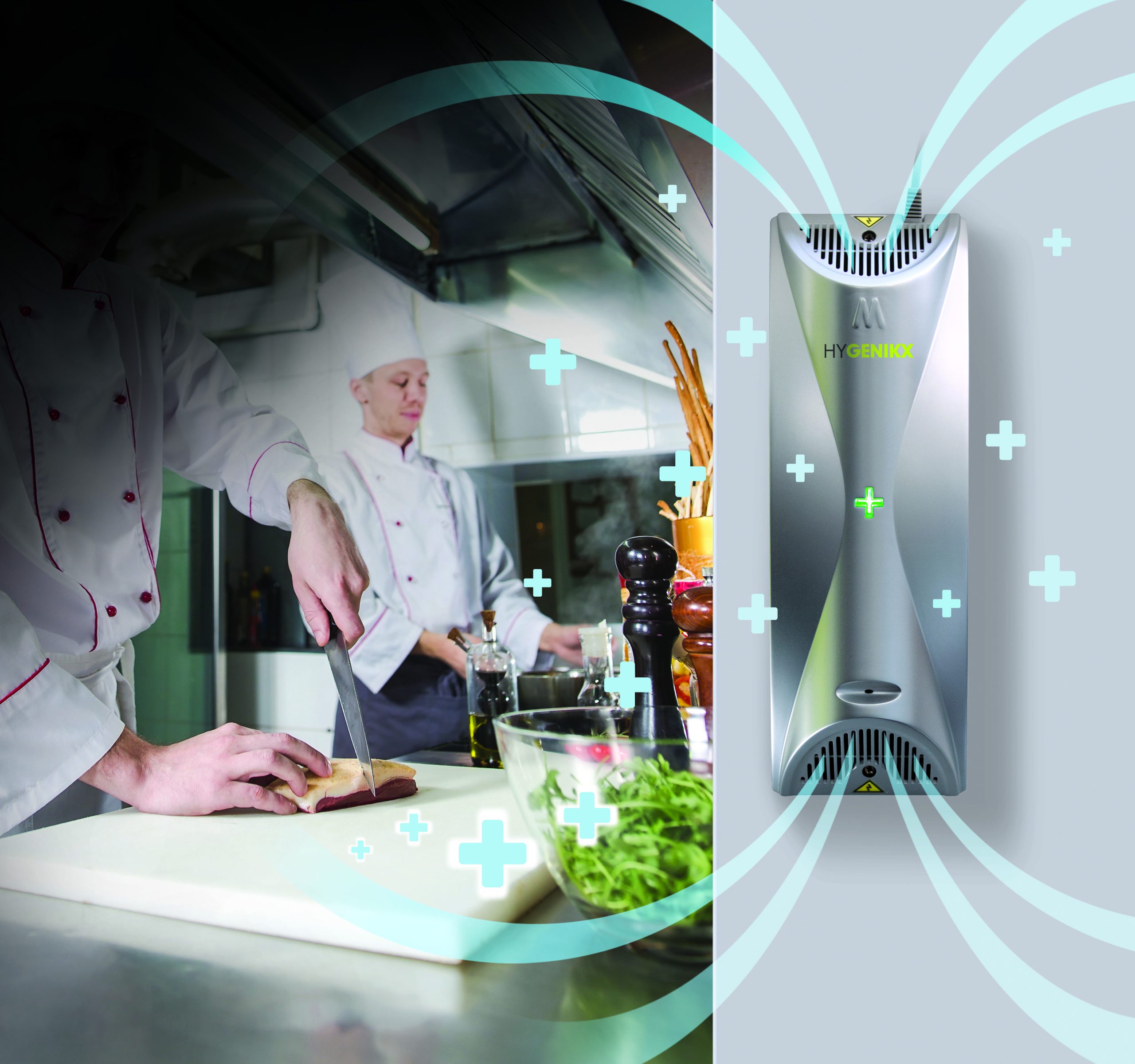 Microorganisms that spread infections, compromise hygiene standards, cause food to spoil and create offensive odours can multiply very quickly and it is very difficult for traditional cleaning methods to keep pace. HyGenikx, however, works safely all day and every day, eliminating bacteria, viruses, moulds, fungi and VOCs (volatile organic compounds) found in the air and on exposed surfaces in a given space, even in those hardest to reach places.
Designed and manufactured by Mechline, the HyGenikx range has models available to suit various applications, including food preparation areas, cold rooms, front of house, washrooms, refuse areas and beyond. HyGenikx utilises a combination of the most effective and refined air and surface sterilization technologies available to target and kill biological hazards in the kitchen, including Salmonella, Escherichia coli (E.coli), Norovirus, and other primary sources of infections. It has been proven to deplete harmful Listeria monocytogenes and Listeria innocua from surfaces to undetectable levels and, critically, improves hygiene standards to levels not possible to maintain with traditional cleaning methods alone. HyGenikx provides round-the-clock hygiene and safety protection and keeps odours under control.
The HyGenikx range for 'food storage areas' has been proven to extend the shelf-life of stored perishable fresh food by an average of 58%, with some produce proving to last as much as 150% longer! Principally, fruit and vegetable life and quality can be significantly extended – which in turn can significantly reduce food waste and cost.
Kristian Roberts at Mechline Developments comments: "HyGenikx is a serious game changer for the industry. Not only does it take hygiene standards to levels impossible to achieve with traditional methods, it prolongs the life of food. In a controlled, experimental trial, we've seen HyGenikx prolong the life of fresh produce in a cold store by an average of 58%, which is an average increase in shelf-life of over a week! Food waste is a significant cost to most businesses, and by helping to prevent it HyGenikx provides a real opportunity for food service operators to take control and save money."
HyGenikx will be featured at Host Milan between the 18th – 22nd October, on stand PAV.5 P03, where Mechline look to connect with new distributor partners. Other ranges on show will include Mechline's BaSix Hand Wash Stations, BioCeptor and GreasePak Drain Maintenance Systems, its new Food Waste Sink Strainer and Dormont Gas Connectors.