Mechline Developments has extended its line-up of BaSix hand wash stations with an all new range of space-saving, mobile, hands-free basins. The range facilitates hygienic handwashing in any location—even where water, waste and electric utilities are not available—and the completely portable 'X' model provides double the washes per litre of any comparable product on the market.
As Nick Falco, Product and Technical Director at Mechline, explains: "As Coronavirus lockdown measures are eased and many businesses reopen their sites, hand washing remains key to mitigating against the risk of Covid-19 transmission. Every business needs to encourage customers and visitors to wash their hands, especially when first entering venues, and the new BaSix mobile hands-free basin range makes this very easy to do. 
Models in the range are slimline, easy to manoeuvre thanks to removable castors and a splashback grab handle, and the 'X' model can be used in locations without any utilities at all—as it all comes integrated. This means it can be wheeled out daily if necessary, to sit outside an establishment, and with a compact footprint of just 384 x 360mm it is an ideal and reassuring addition to entrances and other small spaces.
We have also used our experience to incorporate water-saving technology into the range, adding value to the basins by providing unique water saving benefits for the end-user.
Using the ultra water-saving diffuser supplied, the 'X' model can provide up to an impressive 304 hand washes per water container, so users can rest assured it will last a long time between refills!
Furthermore, with its hands-free design, the new mobile basin maximises user hygiene. Unlike traditional taps, where the lever or handle must be touched with dirty hands, and then revisited with clean hands to turn it off, our mobile BaSix range removes the need for manual contact—reducing the risk of cross-contamination."
BaSix mobile hands-free basins are operated via a foot pump or time flow foot valve, depending on which model is required. All models can be fitted with an optional hanging bin, soap/sanitiser dispenser, and towel dispenser, to provide a complete hygiene station in any location. The 'X' range stores water and waste containers within the unit, which can be easily accessed via a hinged door with a ¼ turn thumb latch.
---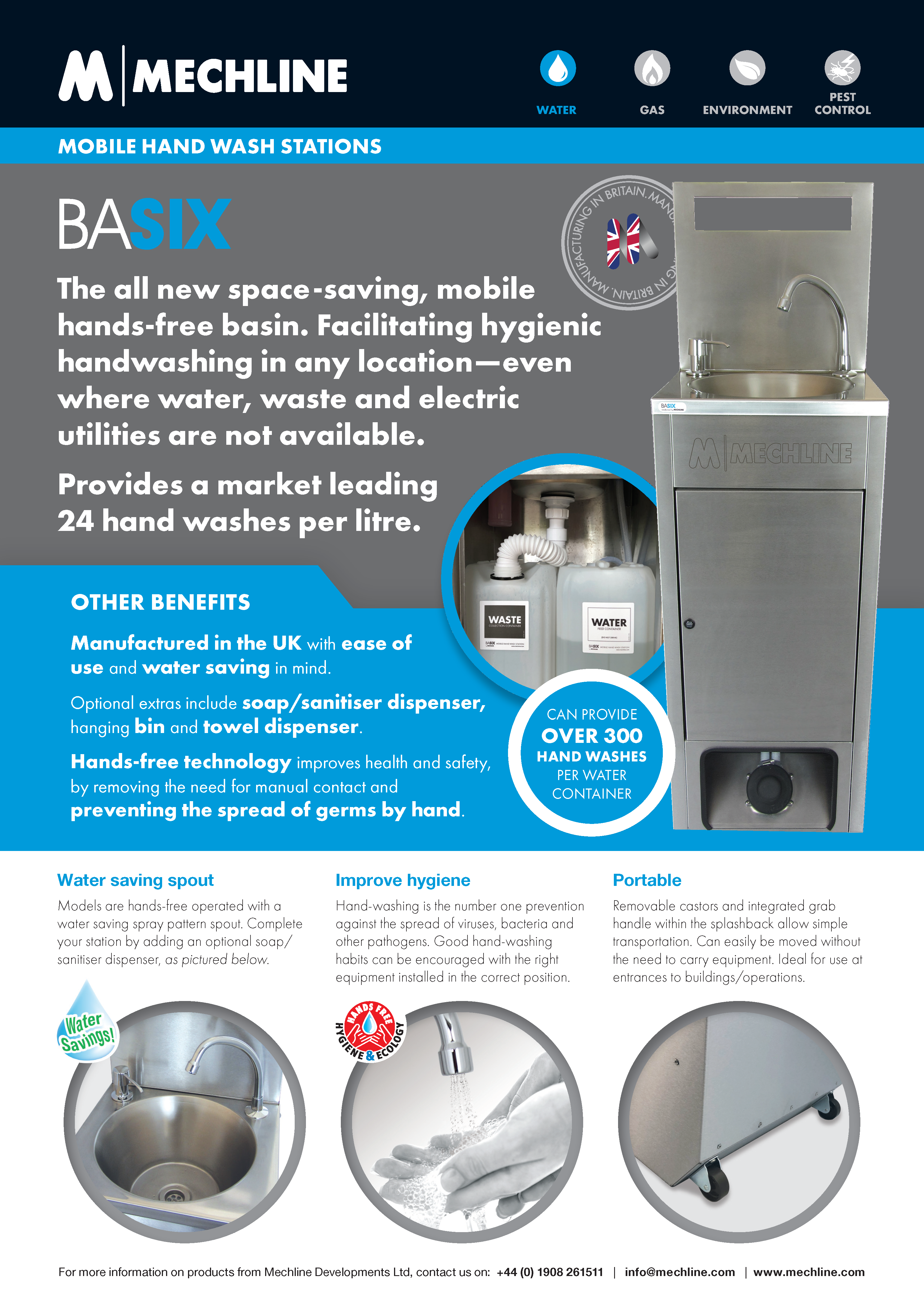 For more details on the 'X' model, check out the data sheet here.
For further information on the whole range please contact Mechline at info@mechline.com or call +44 (0)1908 261511