We are proud to announce that we have been awarded Hygiene Product of the Year for HyGenikx HGX-W-10-F in The Caterer's Supplier Awards 2021.
These awards recognise excellence and innovation in food, drink and equipment products in the foodservice and hospitality industry, with the final shortlist and winners decided by a panel of industry experts. Announcing the winners via a virtual event, Lisa Jenkins, Managing Editor of the Caterer, commented on the hundreds of fantastic entries received this year from suppliers who have stepped up and gone that extra mile to support businesses throughout the past 20 months. And Mechline's HyGenikx was judged as the leading Hygiene Product of the year.
On awarding HyGenikx, Judges commented "This is such a smart piece of kit with advanced technology – it's a practical piece of kit and there should be one or two in every kitchen" 
To Read the full winners supplement of The Caterer click here (select the 14th January 2022 edition)
Following the award, Mechline's Product and Technical Director, Nick Falco, commented "We are so honoured to have had this recognition for HyGenikx – which has a huge role to play in these challenging times. HyGenikx is laboratory proven to remove airborne viruses, including coronaviruses, and has helped many businesses to protect their staff and customers from the risks of transmission. We hope this award highlights to more restaurants, pubs, etc, that there is amazing technology out there to support their standard cleaning – which can help them to keep absenteeism down, customers reassured, and ultimately, their hospitality businesses trading."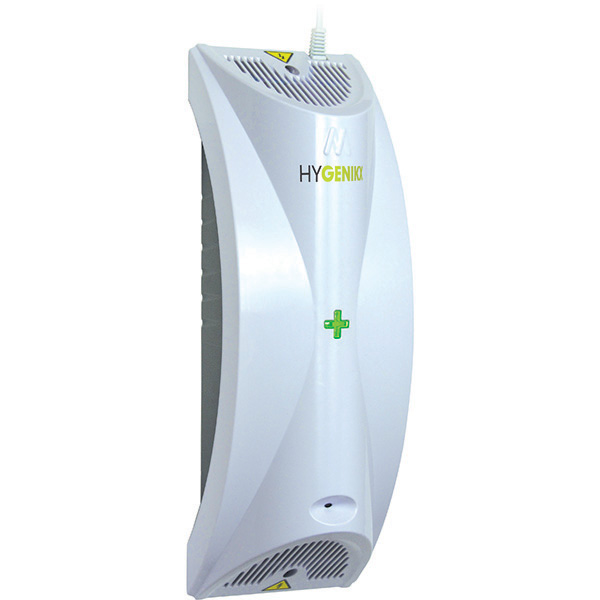 HyGenikx is an air and surface sanitisation system proven to eradicate viruses and bacteria throughout foodservice and hospitality environments, washrooms, changing rooms and beyond. It has been thoroughly tested in the laboratory, with recent independent trails confirming that HyGenikx is effective at removing airborne Coronaviruses, including SARS-CoV-2 which causes COVID-19. The results proved that HyGenikx removed up to 99.99% of an airborne COVID-19 surrogate in under 3 hours.
HyGenikx improves infection control for staff and customers, neutralises all odours, and has been proven to reduce spoilage by extending the shelf-life of perishable fresh food on average by 58%, and up to 150% for certain produce. There are 22 models in the range, which cover a wide range of sanitisation applications. This includes front of house, food areas, washrooms, offices and waiting rooms, to name a few.
For more information please visit our HyGenikx page.