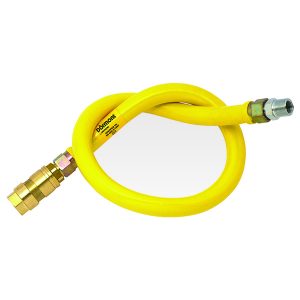 DELIVERING GAS HOSE SAFETY
 As Gas Safety week gets under way (15 – 21 September), it is a timely prompt for caterers to check out the gas hose provision in their kitchens.
It is not over egging the pudding to stress that the most awful consequences lie in wait for operators who fail to install the best possible quality, industry accredited gas hoses in their kitchens. This an area where failing to maintain and replace when necessary can actually lead to serious injury and even fatalities.
Never, ever buy such an essential accessory as gas hoses purely on price, it is such a false economy warns Ian Cresswell, Business Development Director at Mechline, a leading supplier of gas safety hose solutions, including the renowned Dormont brand.
"A common failing in commercial kitchens is down to fracture lines in substandard gas hoses, usually because hoses have been specified on price rather than quality, even in a premier installation. A ruptured gas hose spells danger and unnecessary downtime while it is replaced, and if that is with a like-for-like replacement of an inferior brand the problem is only going to recur."
Substandard hoses need to be replaced with product that is safe and reliable in use, such as Mechline's Dormont gas hoses. Available in optional lengths for greater flexibility, the hoses are compatible with town gas, natural gas and LPG.  Dormont by Mechline are the only kite marked hoses in the UK and are BS669 Part 2 compliant with worldwide accreditation.  Widely regarded as the safest, strongest and most trusted gas hoses in the world, delivering total peace of mind and solid, safe installations, they are engineered to withstand the stresses on end fittings when moving gas equipment for important cleaning and maintenance.  
Mechline's enhanced 'Safety System Plus' Dormont gas hose configuration comprises a robust braided stainless steel hose with an anti-microbial PVC coating, while Dormont's 'Swivel Max' system at both ends of the pipe ensures total joint movement to reduce any stress on the hose. For added safety, the 'SafetyQuik' disconnect coupling will only allow disconnection when the gas is turned off and isolated.  The 'Safety System Plus' Dormont hose supplied by Mechline also comes with a limited lifetime guarantee.  
For more information and details of local distributors call us  on 01908 261511.