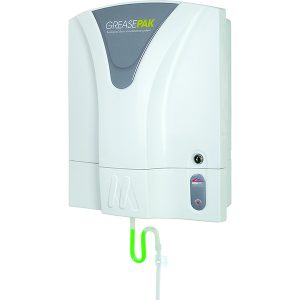 HELPING HOTELIERS KEEP KITCHEN DRAINS FLOWING FREE
In the rarefied world of boutique hotels, style, service and cleanliness are paramount, and equally so behind the scenes in the hotel kitchens.  With a whirlwind of gourmet creativity, it is critical that kitchen drains are clean, odour-free and free-flowing, and essentially not a distraction to the core business, this is where Mechline quietly beavers away with its GreasePak solution.   
Mechline, is a pioneer in keeping drains clear of the dreaded FOG (Fats, Oil and Grease) problem with its practical, sustainable and cost effective GreasePak remedy.
Active in professional kitchens across the UK and abroad, the company's ground-breaking GreasePaK bio-enzymatic solution eliminates FOG from drains, effectively eliminating the risk of blocked drains before they happen – leaving staff free to run an efficient service.
According to Ian Cresswell, Mechline Business Development Director: "Catering kitchens, naturally discharge high levels of FOG resulting in slow drains and blockages, which can release bad odours and create unacceptable health and hygiene hazards. Up to now the traditional method of dealing with the problem was a grease trap.
"However, bulky grease traps are expensive to install and unwieldy, taking up valuable space. They also call for regular emptying and managing – a further distraction for the busy kitchen. Lack of maintenance can result in a foul water reservoir build up, which becomes malodorous and can attract vermin and insects. Cleaning grease traps is always an unpopular job, but if left unchecked can result in kitchen contamination.
"Conversely, GreasePaK is a compact, easy-to-fit, effective solution against the build-up of FOG, and with a new automatic dosing system* introduces a highly effective and safe multi-strain bio-fluid into the drains, which helps to keep them free from blockage and the associated risk of back flow which could significantly affect a foodservice operation."
Hoteliers need to be aware of UK Building Regulations 2000, amended in April 2002, that state that 'drainage serving kitchens in commercial hot food premises should be fitted with a grease separator complying with prEN 1825-1 and designed in accordance with prEN 1825-2 or other effective means of grease removal'.
With daily dosing, the bacteria in GreasePaK will colonise the drain pipework to form a 'biofilm' – an active bio-enzymatic coating that will regenerate itself and produce a continuous supply of highly active enzymes for FOG degradation. GreasePaK requires no special operational, handling or storage procedures.
A commercial kitchen without an efficient method of grease removal contravenes current regulations and can result in hefty fines for the operator, warns Cresswell. However, he says, GreasePaK can work alongside existing grease traps making them far more effective and less of a headache or on its own as a standalone fully compliant solution. "GreasePaK is an environmentally friendly Class 1 biodegradable product that degrades FOGs into smaller, simpler molecules that cannot reform or solidify. We have subjected the product to rigorous independent testing and as a result, it is the only BBA accredited product of its kind in the UK, providing customers with the confidence that it is safe, efficient and compliant.
GreasePak is available through Mechline distributors nationwide, for details of local branches call us on 01908 261511.
*The automatic dosing system is one of the new features to be found on Mechline's newly launched GreasePak2 model.  Still using the same MSGD formulation as previously, the new unit is more compact, incorporates built in electronic sensor technology (to advise operators when to change the MSGD fluid containers), is easy to set and still provides an exceptional battery life up to 24 months max.