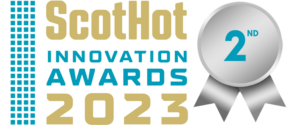 We are proud to announce that HyGenikx has been awarded Silver Place in the ScotHot '23 Innovation Awards! From 80 entries in total, to a shortlist of 14 in the Catering Equipment, Design & Technology Category – the judges have recognised Mechline's Air and Surface Sanitiser for its innovation in response to new industry challenge.
HyGenikx is a wall-mounted, easy-to-install sanitisation system that works by eradicating unwanted bacteria, microbes and pathogens from the air and surfaces—helping operators to maintain high levels of cleanliness and infection control. As well as eliminating bacteria such as E. coli, S. aureus, C. difficile, Listeria, HyGenikx also prolongs the shelf-life of perishable fresh food! As a result, it helps operators reduce food waste, cost, and the need for over-supply, which in turn prevents food waste going to landfill.
Here's what Commercial Director, John Newell, had to say after collecting the award:
"HyGenikx is a kitchen essential, and it's great to have this recognition by ScotHot's expert panel. Food Safety and Food Waste are such big focus areas in our industry—and HyGenikx is rather unique in that it helps operators to tackle both! It reduces food waste by prolonging the life of fresh food, and reduces the risk of cross contamination, by eradicating bacteria and viruses in the air and surfaces."
What to learn more about HyGenikx? Browse the range here
Big congratulations to all the other winners and shortlisted products.